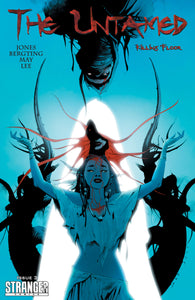 Stranger Comics
The Untamed: Killing Floor #3 (Vol. 2, Issue 3) eBook
Regular price
$2.00
Sale price
$3.99
Unit price
per
50% off during Comic Con Africa!
THE UNTAMED II: Killing Floor #3
Written by Sebastian A. Jones
Art by Peter Bergting
Cover by Jae Lee 
Layouts by Darrell May
1st appearance of Salem
ASUNDA | 36 PAGES | COLOR COMIC BOOK | ALL AGES
--
Niobe trains as an assassin under the guidance of a ruthless killer, and she will need all the help she can get as there is a brutal new player in the war at Coffin Row. Lani is the same age as Niobe, but she has had a lifetime to learn the ways of the warrior and the tools of torture.
--
"Sebastian and the rest of his team not only took the comic to a new level artistically, but the story weaving is so creatively innovative you'll read it multiple times over."
- PRENTICE PENNY (Insecure, Uncorked, Brooklyn 99)
---