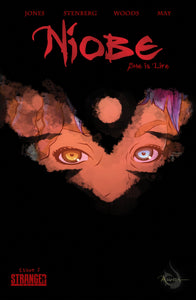 Stranger Comics
Niobe: She is Life #2 (Vol. 1, Issue 2) eBook
Regular price
$2.00
Sale price
$3.99
Unit price
per
50% off during Comic Con Africa!
NIOBE: She is Life #2
Written by Sebastian A. Jones & Amandla Stenberg
Art by Ashley A. Woods
Concept and Layouts by Darrell May
1st appearance of Charan
ASUNDA | 36 PAGES | COLOR COMIC BOOK | ALL AGES 
--
"You will remember my name."
After fleeing the vampire lord, Essessa, Niobe arrives at the sacred Elven grounds of her ancestors, but she finds no welcome from her kind. She does, however, meet a fellow outcast in a half Orc boy who is accused of murder. But Niobe's quest to prove his innocence may expose her own past sins.
--
"We all have a Niobe inside ourselves, and it's time to let her roar."
– VIOLA DAVIS (from her foreword)
"Her journey is my journey. There's never been a character quite like her, one who shatters the traditional ideal of what a hero is. We need more badass girls!" 
– AMANDLA STENBERG
"The girl hero we deserve."
 – TEEN VOGUE
"A tribute to all badass black women." 
– HUFFINGTON POST
"A young black protagonist who's as much as heroic badass as Amandla is." 
– MTV
---