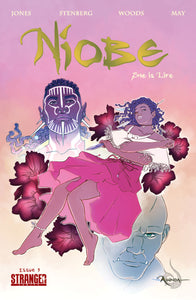 Stranger Comics
Niobe: She is Life #3 (Vol. 1, Issue 3) eBook
Regular price
$2.00
Sale price
$3.99
Unit price
per
50% off during Comic Con Africa!
NIOBE: She is Life #3
Written by Sebastian A. Jones & Amandla Stenberg
Art by Ashley A. Woods
Layouts by Darrell May

ASUNDA | 36 PAGES | COLOR COMIC BOOK | ALL AGES 
--
"It is time you learned how to murder a man."
Niobe has discovered a monastery hidden within the heart of the Ugoma Jungle. Under the tutelage of Bragnar, a wise but again Macgrom (Dwarf), the young warrior princess has discovered an order of Galemren (Wild Elf) boys learning to become men. Feeling out of place, found comfort in an unlikely friend, a Sin-Grachukk (Half Orc) boy who has been accused of murder. Niobe hunted down and defeated the true killer, but old hatreds defy reason. An innocent is about to die.
--
"We all have a Niobe inside ourselves, and it's time to let her roar."
– VIOLA DAVIS (from her foreword)
"Her journey is my journey. There's never been a character quite like her, one who shatters the traditional ideal of what a hero is. We need more badass girls!" 
– AMANDLA STENBERG
"The girl hero we deserve."
 – TEEN VOGUE
"A tribute to all badass black women." 
– HUFFINGTON POST
"A young black protagonist who's as much as heroic badass as Amandla is." 
– MTV
---