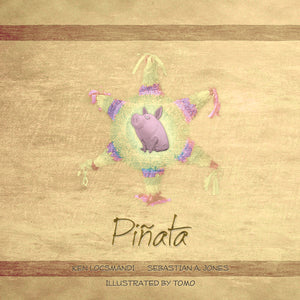 Stranger Comics
PIÑATA
Regular price
$29.99
$0.00
Unit price
per
PIÑATA
Written by Ken Locsmandi & Sebastian A. Jones 
Art by Tomo
Concept and Layouts by Darrell May
Limited Edition hardcover with a variant cover and gold embossed slipcase.
STRANGER KIDS | 72 PAGES | COLOR KIDS BOOK 
--
"They want the candy!"
A group of delusional piñatas believe that they are worshipped when chosen to go to the "party." Not until they see a video tape of their true fate are they smacked into reality. The group of piñatas must then band together to escape their certain demise. Yet in the end, they realize that sacrificing themselves for the happiness of others, the essence of being a piñata, is the best thing in the world.
"Delightfully illustrated, the drawings jump off the page. The characters resonate, and the story embraces diversity, the meaning of life, and the notion that love overlooks imperfections, making PINATA a great tale for kids and parents alike." - SUSAN CARTSONIS (What Women Want, No Reservations)
"Piñata is a masterpiece of heart!  Beautiful, warm, and wonderfully engaging!" - AMAURY NOLASCO (Chase, Prison Break, Transformers)
"This book is so wonderful my half Korean, half Irish, fully American son lays in bed screaming, 'I want Piñata before bed' -  in a perfect Spanish inflection.  Because he's made me read it so much, even I can say Piñata correctly now." – DIANE FARR (Numb3rs, Grey's Anatomy)
"Piñata is a beautiful book with a powerful message of love and selflessness." - GARCELLE BEAUVAIS (Franklin & Bash, NYPD Blue, The Jamie Foxx Show)
---