Welcome to Stranger Comics. The best in fantasy comics.
Binge Bundles & Reader Samples (For More See Below)
Featured Collector Exclusives (For More Visit the Stranger Reserve Below)
Blog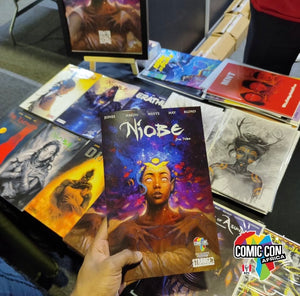 SOUTH AFRICA IS A WRAP! Hello Stranger!Editor Joshua again. Seb and Quincy are on a plane for the long flight back to the States. Comic Con Africa was a great success! Huge...
Endorsements
"Intellectual property superpower." 
 – COMIC BOOK RESOURCES
"Sebastian A. Jones is like the Robert E. Howard of our generation…his epic dark fantasy comic is miles apart from the rest out there."
 – BLEEDING COOL   
"The girl hero we deserve."
 – TEEN VOGUE
"A tribute to all badass Black women."
 – HUFFINGTON POST
"We all have a Niobe inside ourselves, and it's time to let her roar."
 – VIOLA DAVIS (from her foreword in NIOBE: She is Life)
"THE UNTAMED promises to be an epic tale, conceived and crafted not only with a great love of comics, but also a profound understanding of the power of visionary storytelling."
 – CLIVE BARKER 
"It's rare that one finds a book full of lush painted tapestry that you can only describe as a masterpiece but Dusu is that, if not more. 5/5"
 – RYN FRASER (Black Heroes)