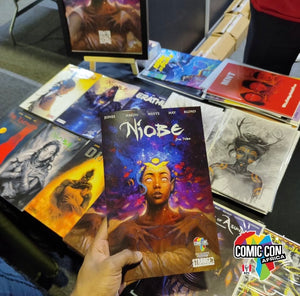 SOUTH AFRICA IS A WRAP! Hello Stranger!Editor Joshua again. Seb and Quincy are on a plane for the long flight back to the States. Comic Con Africa was a great success! Huge thanks to everyone at the con, both the organizers and attendees, for welcoming the guys with open arms. But it wouldn't have been possible without Tehani Farr setting everything in motion, so thanks to her as well. And of course, special thanks to Thuso Mbedu for being there with Sebastian to offer a peek at Niobe: She Tribe, and though he wasn't there, much appreciation to Caanan White for bringing...
---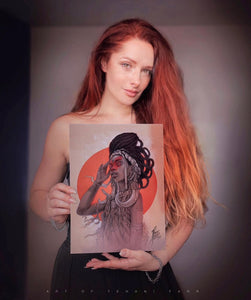 SEB'S DOUBLE BIRTHDAY BASH! Hello Stranger!Happy Thursday! Let the celebration begin! In case you missed it, I turn 50 on Monday, which is rather terrifying. But it is also pretty cool. I get a chance to reflect on all the things I've done, the good, the bad and the ugly, but also all the things I still want to do, the goals set I still must accomplish! And I get to celebrate with you guys, the Stranger Family! TWICE! Come join me:SEB'S BIRTHDAY BASH! This Sunday August 27, please join me and surprise guests, at 3 PM PST / 6 PM...
---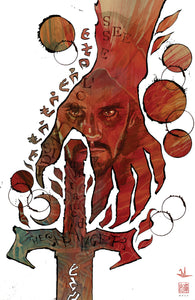 Hello Stranger!Firstly, I want to acknowledge a legend who has left the world a better place. Rest in peace, Tina.Happy Thursday, Stranger Fam. How are you guys doing? I appreciate everyone's support so much for the Kickstarter and Stranger Comics in general. I also appreciate all the teasing for the David Mack covers of me as The Stranger. That is not Jared Leto! We have mugs, blankets and of course exclusive covers. These on metal are beautiful btw. As a heads up we're adding more graphics to the campaign, and beautiful ADD ONS, which are listed at the very bottom of...
---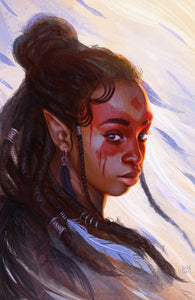 TUTORIALS AND SUCH Hello Stranger!Happy Thursday. Firstly, I wanted to say a huge thank you to everyone who has pledged and posted about our Kickstarter campaign!!! We have been smashing through stretch goals, thanks to you guys, so if you haven't joined the party, now is a great time! Kickstarters are a huge part of not only our success, but helping build our Stranger Family community. Supporting these campaigns is everything for us.It's been a few days since we launched, and in hindsight, I probably shouldn't have launched on Mother's Day weekend (I hope you had a wonderful one) so...
---
Hello Stranger! Happy Thursday! This is a quick note to let you know our FREE COMIC BOOK DAY is MAY 13th! As you probably know, this is when we launch our latest Kickstarter, which features the Anniversary Edition of THE UNTAMED Hardcover and 5 comics set in Asunda! ALL DAY 1 BACKERS will get this FREE Kickstarter exclusive cover by Sheldon Mitchell of NIOBE & DURA #2. This tale is the first time Dura shares how the world of Asunda was created, as she narrates her story to Niobe and you, the reader! CLICK THE NOTIFY ME BUTTON HERE TO NOT...