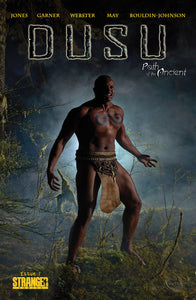 Stranger Comics
Dusu #1 Cosplay Variant
Regular price
$19.99
$0.00
Unit price
per
DUSU: Path of the Ancient #1
Written by Sebastian A. Jones & Christopher Garner
Art by James C. Webster
Concept and Layouts by Darrell May

This Limited Edition Retailer Exclusive was drawn by 8 and 16 bit variant cover artist Matthew Waite to parody the Sega game Altered Beast. It was released in partnership with NJOY Comics and Games.
1st appearance of Dusu and Waso
ASUNDA | 36 PAGES | COLOR COMIC BOOK | MATURE READER ALSO AVAILABLE IN EBOOK FORMAT:
--

"Within every heart sleeps the animal. The One awakened will be lord of all."
- Galemren proverb
Hidden from his kin and sheltered from his future, Dusu is raised among the Galemren (Wild Elves) in the secret heart of the Ugoma Jungle, a world in which he does not belong. But Dusu is not entirely human either. He is on the Path to something more… Dusu must focus his rage and become the savior of Ugoma before all he loves is destroyed. 
"Powerful storytelling and lush artwork. Stranger Comics' Dusu: Path of the Ancient will echo like a primal scream within the deep recesses of your imagination." -- LLOYD LEVIN (Watchmen, Hellboy, Boogie Nights)
"Once again, Sebastian A. Jones and Stranger Comics have cleverly combined classic elements of pulp adventure with their own unique brand of dark fantasy, resulting in Dusu: Path of the Ancient, a mythic tale that is wonderfully familiar and yet somehow completely original." -- ANDREW COSBY (2 GUNS, Founder of BOOM!, Creator of Eureka)
"Dusu: Path of the Ancient stands among some of the best graphic storytelling I have ever had the pleasure to read." -- BALOGUN OJETADE (Komplicated, Sword and Soul)
"It's as if Frazetta decided to do a graphic novel." -- MILTON DAVIS (Wagadu, Sword and Soul)
"It's rare that one finds a book full of lush painted tapestry that you can only describe as a masterpiece but Dusu is that, if not more. 5/5" -- RYN FRASER (Black Heroes)
---