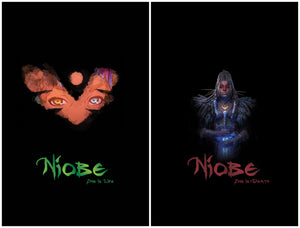 Stranger Comics
Niobe Vol. 1 & 2 Hardcover Bundle
Regular price
$89.99
Sale price
$119.98
Unit price
per
Includes Volumes 1 and 2 of the Niobe series
Written by Sebastian A. Jones & Amandla Stenberg
Art by Ashley A. Woods
These oversized hardcovers are 224 pages, adding an extra 96 pages of bonus material to what's in the paperback.
Also available in limited Kickstarter Editions that have been upgraded with foil inlay and a reversible dust jacket with a poster on the back.
--
Niobe, the child of prophecy first introduced in The Untamed, is on the run both from her destiny and those who would see it unfulfilled. She finds shelter among her mother's people, but when a boy is murdered it sets off a series of events that will lead to war.
--
"We all have a Niobe inside ourselves, and it's time to let her roar." – VIOLA DAVIS (from her foreword)
"Her journey is my journey. There's never been a character quite like her, one who shatters the traditional ideal of what a hero is. We need more badass girls!" – AMANDLA STENBERG
"The girl hero we deserve." – TEEN VOGUE
"A tribute to all badass black women." – HUFFINGTON POST
"A young black protagonist who's as much as heroic badass as Amandla is." – MTV
---