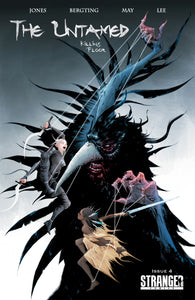 Stranger Comics
The Untamed: Killing Floor #4 (Vol. 2, Issue 4) eBook
Regular price
$2.00
Sale price
$3.99
Unit price
per
50% off during Comic Con Africa!
THE UNTAMED II: Killing Floor #4
Written by Sebastian A. Jones
Art by Peter Bergting
Cover by Jae Lee 
Layouts by Darrell May
ASUNDA | 36 PAGES | COLOR COMIC BOOK | ALL AGES
--
The Devil has come looking for his due, and Niobe's new skills will be sorely tested. When the truth is revealed, Hareth, her greatest ally, must choose between his family and the child of destiny.
--
"Sebastian and the rest of his team not only took the comic to a new level artistically, but the story weaving is so creatively innovative you'll read it multiple times over."
- PRENTICE PENNY (Insecure, Uncorked, Brooklyn 99)
---