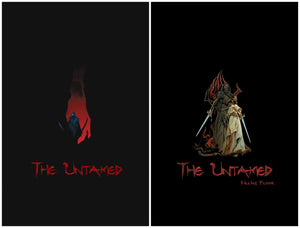 Stranger Comics
The Untamed Vol. 1 & 2 Hardcover Bundle
Regular price
$89.99
Sale price
$119.98
Unit price
per
Includes Volumes 1 and 2 of the Untamed series
Written by Sebastian A. Jones
Art by Peter Bergting
These oversized hardcovers are 248 pages and 232 pages, respectively, and include bonus material not available in the trade paperback edition.
Also available in limited Kickstarter Editions that have been upgraded with foil inlay and a reversible dust jacket with a poster on the back.
--
"Seven Days. Seven Souls."
A cloaked Stranger slips into the rustic Town of Oasis changing things forever. Ten years it had been since he ran this town with malice and harshness. Even then there was hope for his soul. His wife and daughter were on the verge of turning him from wickedness. But they were murdered, and so was he. He is granted seven days to reap seven souls and gain a chance at revenge. Conflict arises as a young girl (Niobe Ayutami) reminds him of his murdered daughter. She acts as his conscience and become his only hope for salvation.
"THE UNTAMED promises to be an epic tale, conceived and crafted not only with a great love of comics, but also a profound understanding of the power of visionary storytelling." - CLIVE BARKER (Hellraiser, Candyman)
"What's not to love about Jones and Bertging's The Untamed: it's a Sergio Leone, Frank Frazetta, William Blake fever dream mash-up. And that's just where it begins!" - LLOYD LEVIN (Watchmen, Hellboy, Boogie Nights)
"Sebastian A. Jones' THE UNTAMED is what we fantasy fans have been starving for -- a completely original dark and gritty thriller set in a brutal world that delivers on all levels." - ANDREW COSBY (Co-Founder of BOOM! Studios, 2 Guns, Creator of Eureka)
"Peter's one of my favorite working artists today. Fluid storytelling with an eye for acting and mood." - RICK REMENDER (Fear Agent, Punisher)
"Sebastian A. Jones is like the Robert E. Howard of our generation." - CAMERON HATHEWAY (Bleeding Cool)
"A haunting revenge saga amongst the dunes of Asunda. Jones weaves grim poetry through the Stranger's bloody mission, elevating the simple tale to grave myth." - PAUL MONTGOMERY (iFanboy)
---