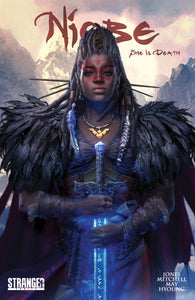 Stranger Comics
Niobe: She is Death (Vol. 2, Issues 1-4) eBook Collection
Regular price
$9.99
Sale price
$15.96
Unit price
per
SYNOPSIS

A shadow has fallen across the volatile world of Asunda. Some say the devil walks again and no man can stand against him. But not all men are heroes, and not all heroes are men.
NIOBE: She is Death is a tale of revelations for a young woman who is tired of running. Niobe has lost her faith – in humanity and the world around her. In the sequel to the acclaimed "Niobe: She is Life," we witness Niobe's journey from heartbroken teenager to warrior woman. A bounty has been put on the young savior's head. When the worst of men come to collect, innocent girls are caught in the crossfire, and Niobe must go on the offensive.
Niobe becomes a bounty hunter, hunting down sex traffickers and slave traders, working toward the man holding the strings. Along the way she will be met by a ghost from her past and forced to decide just how much she is willing to sacrifice.

--

Volume 2 of the Niobe series
Collects Issues 1-4 of NIOBE: She is Death in a 128 page paperback edition with bonus material included in the back. Hardcover Editions have 96 extra pages of bonus material.

Written by Sebastian A. Jones
Art by Sheldon Mitchell
Concept and Layouts by Darrell May
Cover by Hyoung Taek Nam
ASUNDA | COLOR COMIC BOOK | ALL AGES

FOR THE COLLECTORS: Issue #1 features the 1st appearances of Yorick, Hrendor, Thipple, Imyr, Kerase, and Arukas the Untamed.

Issue #1 is available here in printed format. Other covers and other issues in the series are available elsewhere in the Stranger store.

--
"We all have a Niobe inside ourselves, and it's time to let her roar." – VIOLA DAVIS (from her She is Life HC foreword)
"Can a half-elf, fully female, warrior–bounty hunter be exactly what comics need right now? Niobe provides young women of color with a superhero to call their own." – VOGUE
"Not only do you get the beautiful artwork and creative storytelling… but also the sense that you're supporting a movement of strength." – GEEK AND SUNDRY
"Niobe: She is Death is a lyrical fantasy about one woman's quest for revenge within a stunning world of magic and mystery that ultimately transforms both the main character and the reader." – KARAMA HORNE (TheBlerdGurl)
"Not only is this a fantastic sword and sorcery story, it also bares a depth and complexity reminiscent of epic poems that such tales of heroism were told through. 9.5/10" – RABID ROOK
"I, for one, am extremely excited to see how this series will unfold; will she choose Life or Death and if the TV show can remotely do the comic and its characters justice." – AMBER T. HUBBARD (Blackscifi)
---