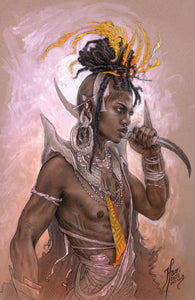 Stranger Comics
SPOTLIGHT: Tales of Asunda #2 Tehani Farr Dusu Wondercon Exclusive
Regular price
$19.99
$0.00
Unit price
per
*ADVANCE AVAILABILITY*
Limited to 100 copies, 25 Silver Metal variants and 5 Gold Metal variants. 

In advance of Wondercon, 5 copies, 2 silver metal copies, and 1 gold metal are available here in the Stranger Reserve. 10 copies, 4 silver metal copies, and 2 gold copies will also be available in the Patreon Store exclusively for Patrons who can apply the Patreon 20% discount. 

11x17 Lithographs and Canvas Totes are also available. A green alt color version of this will be available at Strangercon in April and a red alt color version will be a Kickstarter exclusive.

Be sure to get Tehani's matching Waso variant!

PLEASE NOTE: Metals will ship in late May due to the additional printing time.
---