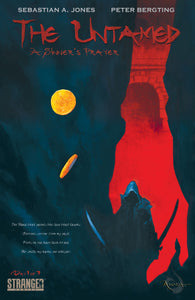 Stranger Comics
The Untamed: A Sinner's Prayer #1 (Vol. 1, Issue 1) eBook
Regular price
$0.00
Sale price
$3.99
Unit price
per
READ THE FIRST ISSUE FREE!
"Seven Days. Seven Souls."
A cloaked Stranger slips into the rustic Town of Oasis changing things forever. Ten years it had been since he ran this town with malice and harshness. Even then there was hope for his soul. His wife and daughter were on the verge of turning him from wickedness. But they were murdered, and so was he. He is granted seven days to reap seven souls and gain a chance at revenge. Conflict arises as a young girl (Niobe Ayutami) reminds him of his murdered daughter. She acts as his conscience and become his only hope for salvation.
---