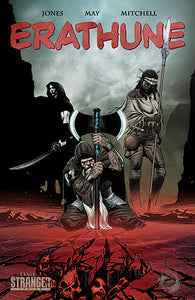 Stranger Comics
Erathune #1 Mitchell Retail Cover A
Regular price
$19.99
$0.00
Unit price
per
ERATHUNE #1
Written by Sebastian A. Jones
Story and Layouts by Darrell May
Cover and Art by Sheldon Mitchell
Retail edition with cover by interior artist Sheldon Mitchell (Niobe: She is Death, The Darkness).
1st appearance of Buxton Stonebeard
ASUNDA | 36 PAGES | COLOR COMIC BOOK | ALL AGES
--
"A soul is not worth the weight."
Many years ago, Buxton Stonebeard was banished from his dwarven home amid a shower of blood. But his cursed axe demands a soul, and so the outcast must return. Accompanied by Skarlok, his unlikely Morkai ally, and Niobe, a budding hero, Buxton must save the town that condemned him.
--
"This comic book feels very different from anything i've read. I am into high fantasy novels by Brandon Sanderson, Tad Williams, Clive Barker and this story feels like it could sit next to these novels! Sebastian A. Jones has proven that a fantasy comic book rich with history, diversity, and a great story can exist. 5/5" 
- HIP HOP UNDEAD
"I have to give a ton of credit to Stranger Comics for creating such diverse characters, especially featuring women of color."
- GEEK MUNDO
"I hope you love this book as much as I did, and may you get lost in Asunda for many years to come."
- RUSSELL NOHELTY (Pixie Dust, Wannabe Press)
---