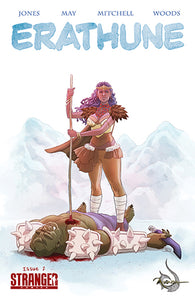 Stranger Comics
Erathune #2 Woods Retailer Incentive Variant
Regular price
$29.99
$0.00
Unit price
per
ERATHUNE #2
Written by Sebastian A. Jones
Story and Layouts by Darrell May
Art by Sheldon Mitchell
Cover by Ashley A. Woods
This Retailer Incentive Variant was painted by Ashley A. Woods (Niobe: She is Life). 
ASUNDA | 36 PAGES | COLOR COMIC BOOK | ALL AGES
--

"I am the mountain. Older than prayer."
As miners return from the depths with tales of an approaching orc army, the family that exiled Buxton has begrudgingly implored him for help. With Niobe and Skarlok at his side, the ancient dwarf prepares for war... and the final soul the Goddess of Death requires him to harvest.
--
"This comic book feels very different from anything i've read. I am into high fantasy novels by Brandon Sanderson, Tad Williams, Clive Barker and this story feels like it could sit next to these novels! Sebastian A. Jones has proven that a fantasy comic book rich with history, diversity, and a great story can exist. 5/5" 
- HIP HOP UNDEAD
"I have to give a ton of credit to Stranger Comics for creating such diverse characters, especially featuring women of color."
- GEEK MUNDO
"I hope you love this book as much as I did, and may you get lost in Asunda for many years to come."
- RUSSELL NOHELTY (Pixie Dust, Wannabe Press)
---