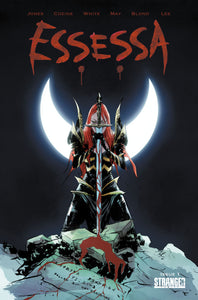 Stranger Comics
Essessa #1 Jae Lee Trade
Regular price
$19.99
Sale price
$29.99
Unit price
per
ESSESSA #1
Written by Sebastian A. Jones & Joshua Cozine
Art by Caanan White
Cover by Jae Lee
Layouts by Darrell May
This is the Kickstarter Edition by Caanan White.
1st appearance of Attuan, Junn, Vastar, and Kilandrum
--
Every villain has an origin and Niobe's nemesis is no different. Travel back to when Essessa was human as Niobe discovers that she and the vampire paladin share a connection that spans millennia.
---