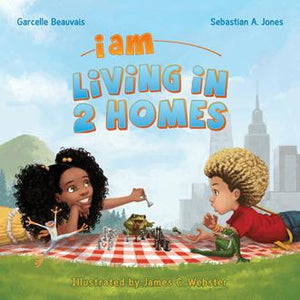 Stranger Comics
I Am Living in 2 Homes SIGNED
Regular price
$14.99
$0.00
Unit price
per
To celebrate the 5 year anniversary of I Am Awesome, the first 50 Bundle sets will be discounted and signed by Garcelle and Sebastian. The first 50 individual books will be signed too!
Signed books will ship on 4/29/20. Preorder Now!
I Am Living in 2 Homes
Written by Garcelle Beauvais & Sebastian A. Jones 
Art by James C. Webster
STRANGER KIDS | 56 PAGES | COLOR KIDS BOOK 
eBook Options

--

"Quality time is what I most enjoy!"
Jay and Nia are the children of two worlds and two homes. Follow the twins from I AM MIXED as they both navigate the difficulties of having parents who are no longer together and discover the benefits of having two very different homes to explore and enjoy.
"I Am Living in 2 Homes is an essential book for all families, especially those in this particular situation." - DR. CHARLES J. SOPHY (The Dr. Phil Show). From his foreword.
"Beautiful and healing. Finally, a book that sees the world of divorce through a child's eyes." – SHERRI SHEPHERD (The View)
---