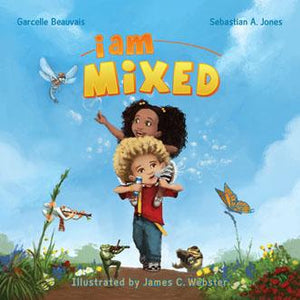 Stranger Comics
I Am Mixed Limited Edition SIGNED
Regular price
$24.99
Sale price
$29.99
Unit price
per
To celebrate the 5 year anniversary of I Am Awesome, the first 50 Bundle sets will be discounted and signed by Garcelle and Sebastian. The first 50 individual books will be signed too!
Signed books will ship on 4/29/20. Preorder Now!
I Am Mixed
Written by Garcelle Beauvais & Sebastian A. Jones 
Art by James C. Webster
This Limited Edition version has a gold embossed faux leather cover with a double-sided dust jacket that has a poster on the back.

--

"I am mixed with all kinds of goodies!"
Jay and Nia are the children of two worlds, and as they'll discover, they can enjoy the best of both. From Mommy's jazz beats to Daddy's classical piano, we will dance with the twins through a book that explores what it is to be of mixed ancestry, proving that a child is more than the sum of their parents.
"I Am Mixed is an invaluable teaching tool that all children from all races can learn from." - HALLE BERRY (from her forward)
"My son, as well as all of his friends, are mixed and they don't know any different. I don't know who this book is better for, the children of this generation or their parents. This book is a wonderful celebration of the beauty of coming from mixed ethnicities and cultures!" - JAIME PRESSLY (My Name is Earl)
"Such a cute book with great illustrations and a sweet message." - HEIDI KLUM
"As a mother of a mixed-race child, I hope my daughter grows up to be proud of who she is and what makes her unique.  I Am Mixed is a beautiful, sweet story that encourages children to look within themselves and appreciate the distinct heritage that makes each person special.  It reminds us that our diverse cultures and traditions are things that should be honored and treasured." – LAURA LING
---