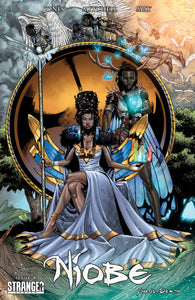 Stranger Comics
Niobe: She is Death #4 Mitchell Connecting Cover A
Regular price
$9.99
$0.00
Unit price
per
NIOBE: She is Death #4
Written by Sebastian A. Jones
Art by Sheldon Mitchell
Concept and Layouts by Darrell May
Cover by Sheldon Mitchell
This is the retail release Cover A, available in stores. This is part of a connecting set with the Mitchell cover of issue #3.
PLEASE NOTE: Books will begin shipping on the in store release date in May.
ASUNDA | 36 PAGES | COLOR COMIC BOOK | ALL AGES
--
"We all have a Niobe inside ourselves, and it's time to let her roar."
– VIOLA DAVIS (from her She is Life HC foreword)
"Can a half-elf, fully female, warrior–bounty hunter be exactly what comics need right now? Niobe provides young women of color with a superhero to call their own."
– VOGUE
"Not only do you get the beautiful artwork and creative storytelling… but also the sense that you're supporting a movement of strength."
– GEEK AND SUNDRY
"Niobe: She is Death is a lyrical fantasy about one woman's quest for revenge within a stunning world of magic and mystery that ultimately transforms both the main character and the reader."
– KARAMA HORNE (TheBlerdGurl)
"Not only is this a fantastic sword and sorcery story, it also bares a depth and complexity reminiscent of epic poems that such tales of heroism were told through. 9.5/10"
– RABID ROOK
"I, for one, am extremely excited to see how this series will unfold; will she choose Life or Death and if the TV show can remotely do the comic and its characters justice."
– AMBER T. HUBBARD (Blackscifi.com)
Click the icon below to read on Comixology.

---