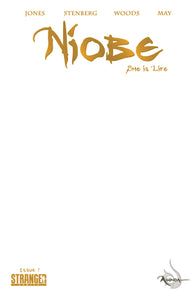 Stranger Comics
Niobe: She is Life #1 Blank Sketch
Regular price
$9.99
$0.00
Unit price
per
NIOBE: She is Life #1
Written by Sebastian A. Jones & Amandla Stenberg 
Art by Ashley A. Woods
Concept and Layouts by Darrell May
Draw your own cover or have your favorite artist draw one.
1st appearance of Sin and Bragnar
ASUNDA | 36 PAGES | COLOR COMIC BOOK | ALL AGES 
--
What becomes of the child who has lost her spirit?
NIOBE: She is Life is a coming of age tale of love, betrayal, and ultimate sacrifice. Niobe Ayutami is an orphaned wild elf teenager and also the would-be savior of the vast and volatile fantasy world of Asunda. She is running from a past where the Devil himself would see her damned toward an epic future that patiently waits for her to bind nations against the hordes of hell. The weight of prophecy is heavy upon her shoulders and the wolf is close on her heels.  
--
"We all have a Niobe inside ourselves, and it's time to let her roar."
– VIOLA DAVIS (from her foreword)
"Her journey is my journey. There's never been a character quite like her, one who shatters the traditional ideal of what a hero is. We need more badass girls!" 
– AMANDLA STENBERG
"The girl hero we deserve."
 – TEEN VOGUE
"A tribute to all badass black women." 
– HUFFINGTON POST
"A young black protagonist who's as much as heroic badass as Amandla is." 
– MTV
---