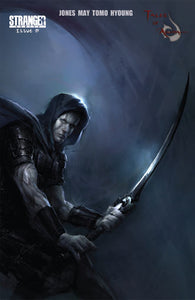 Stranger Comics
Tales of Asunda #0 Silver Blood Hyoung Limited Edition
Regular price
$99.99
$0.00
Unit price
per
Pulled from the vault. 10 available for the holidays.
TALES OF ASUNDA #0 SILVER BLOOD
Written by Sebastian A. Jones
Art by Tomo
Concept and Layouts by Darrell May
This Limited Edition Variant was painted by Hyoung Taek Nam and was never released in store.
1st appearance of Skarlok
ASUNDA | 36 PAGES | COLOR COMIC BOOK | MATURE READER
--
"Mornings are a wonder to behold, are they not?"
The cold sea wind whistles and moans through the narrow dock alleys of Asarra Bay, where walls are stained with tales of death dealing and other such sins. Here is where we find our hero, under the watch of the Silver Moon: Skarlok Two Hearts, King of the Morkai, and Bane of Human Kind. A man will die this night. Discover the world of Asunda through the eyes of an assassin, in a land far from home.
---