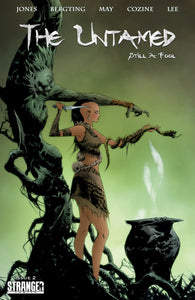 Stranger Comics
The Untamed: Still a Fool #2 eBook (Vol. 3, Issue 2)
Regular price
$2.00
Sale price
$3.99
Unit price
per
50% off the ebook during Comic Con Africa!
SYNOPSIS


"Even demons can love like angels."

The Stranger is bound for the icy realm of Herfang, in search of his wife and child. But the Gods have other plans, thanks to his companion, Niobe Ayutami. The unlikely pair will find themselves in the heart of the Ugoma jungle where Niobe will come face to face with her brother WASO (from the pages of Dusu: Path of the Ancient) for the first time.

Hidden within the old world, the Ancient being DURA is being reborn! Niobe and the Stranger must help the Tribe of the Gathering Wind find and protect her before a mysterious predator with ties to Niobe's past kills them all.

--

Written by Sebastian A. Jones
Art by Peter Bergting
Layouts by Darrell May

FOR THE COLLECTORS: Issue #1 features the 1st appearances of two of Asunda's gods. Issue #2 features the 1st meeting of Niobe and her brother Waso and the 1st appearances of the god Powisienne and a new villain, Araxi.

Issues #1 and #2 are available in printed format and ebook. Other covers are available elsewhere in the Stranger store.

--

"What's not to love about Jones and Bergting's The Untamed: it's a Sergio Leone, Frank Frazetta, William Blake fever dream mash-up. And that's just where it begins!" - LLOYD LEVIN (Watchmen, Hellboy, Boogie Nights)
"Sebastian A. Jones' THE UNTAMED is what we fantasy fans have been starving for -- a completely original dark and gritty thriller set in a brutal world that delivers on all levels." - ANDREW COSBY (Co-Founder of BOOM! Studios, 2 Guns, Creator of Eureka)
"Sebastian A. Jones is like the Robert E. Howard of our generation." - CAMERON HATHEWAY (Bleeding Cool)
---